TCS boosts sales productivity, and makes sales teams more agile, by ensuring that your salespeople always have instant access to your Sales & CRM applications and data, regardless of signal or connectivity. This always on, always available functionality gives your sales team the power to turn even unplanned customer interactions into impactful selling events.
TCS gets your sales people up and running quickly, with an easy-to-use, tab-based user interface that requires no training, and delivers an industry leading user experience. New data is automatically pushed to sales reps and managers, and changes are synched transparently in the background, keeping your entire sales organization operating in lockstep.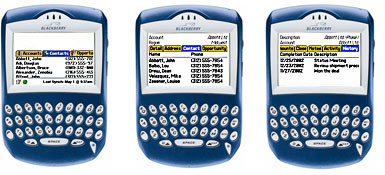 TCS Unique Features:
Applications – and all the data – reside locally on the device, 100% "Off-Line" Functionality – regardless of wireless coverage.
Tremendous Data Storage. Patent-pending compression technology lets you securely store a 100mb data set using just 10MB of device space. This is 200x more data than any other solution!
Rapid navigation and sub-second response time.
Screens can be quickly tailored to meet user requirements.
E-mails and phone calls can be automatically logged into account and contact history/records.
Rapid, Low Cost Implementation. Packaged functionality speeds deployment time and controls cost.
TCS' Business Impact:
Instant Access to Information makes customer interactions smoother and more productive
TCS transforms Down-Time into Up-Time by giving users the ability to update call records, contacts, and prepare for engagements whenever & whenever they want
Improved operational speed communications makes sales and marketing more effective
Guaranteed performance and availability: Sales and customer data is available whenever your reps need it, not just when the network can deliver it.