Management Console

Without enterprise grade management tools and processes, the efficiency and productivity gains bought by mobility will quickly be eclipsed by the additional costs associated with management and administration.
To address this, TCS developed the TCS Management Console; an enterprise grade management and administration portal which is fully integrated into the TCS Mobile Platform and provides IT administrators with the ability to manage all aspects of their company's mobile solutions. The TCS Management Console delivers the ease of use and speed administrators have come to expect from similar LAN focused tools, while dramatically reducing the IT resources required to efficiently manage mobile initiatives.
The TCS Management Console is an intuitive Graphic User Interface (GUI) driven tool that requires very little training, and allows TCS' customers to manage all aspects of all mobile applications with their existing resources.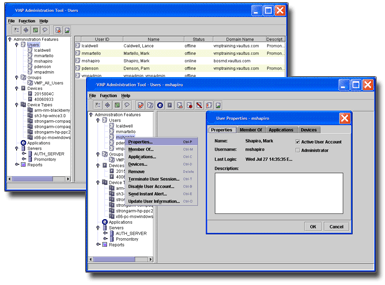 Key capabilities include:
Manage user authorizations: GUI console for managing users and permissions
Manage Groups: to assign access rights, levels of security, preferences, etc. by user groups.
Manage Device Security: Manage all aspects of device security, including lease key windows and device disablement.
Manage Device Types and Inventory
Manage Applications and Configurations: Manage, deploy and configure applications "over the air"
Manage Servers: GUI interface for server access and management