TCS mobilizes existing enterprise applications to help our customers improve productivity, efficiency and decision making. At the heart of all our applications is the TCS Mobile Application Platform (VMAP™), which provides best-of-breed mobile data security, and the ability to rapidly deploy a variety of packaged or homegrown applications onto BlackBerrys and Microsoft Mobile PDA devices.

By design, TCS solves the mobile "point solution" needs of specific departments, while at the same time delivering a foundation for all future enterprise mobile initiatives. This unique ability to offer a scalable, enterprise grade platform, at the price of a point solution, is what has made TCS a leader in business mobility.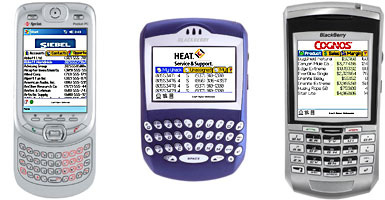 TCS Sales/CRM
TCS
HelpDesk/
Field Service
TCS
Reporting
Dashboard
Key TCS Attributes:
Best-of-Breed Security to Safe Guard All of Your Data: TCS offers the industry's most comprehensive end-to-end security, and our unique Lease Key technology allows TCS to go the extra mile and secure your mobile data, even when the radio signal is off.
Guaranteed Performance and Availability To Maximize Productivity: With TCS, the applications – and all of the data – reside securely on the hand held device, giving users instant access to critical information, regardless of connectivity, and allowing them to MAXIMIZE their productivity.
One Platform for All Your Mobile Data; at the Price of a Point Solution: Our mobile platform is secure, scalable, and flexible enough to handle all of your enterprise applications. Giving you the ability to have a mobile development and management tool that's both user/IT friendly, and cost effective.
Packaged Sales/CRM, HelpDesk & Performance Management Solutions: TCS offers packaged, ready to deploy solutions that fully integrate into leading backend applications.
A Legacy of Success: Our customers include companies of all sizes, from Fortune 10 to mid-sized firms. But, regarless of size, TCS has always made a big impact on how, and how well, these companies do business.