TCS Reporting Dashboards make your existing Business Intelligence Reporting applications available to managers whenever, and wherever they need them; giving business leaders the tools to make informed decisions, and to proactively address problems before they escalate. And with TCS, your data is fully protected by the industry's most comprehensive network and device-based security.

TCS Reporting Dashboard lets your managers keep their finger on the pulse of business: Anywhere, Anytime.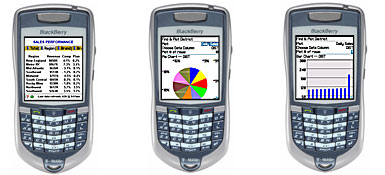 TCS Unique Features:
Applications – and all the data – reside securely on the device, 100% "Off-Line" functionality – regardless of wireless coverage.
Tremendous Data Storage. Patent-pending compression technology enables users to securely store 100mb of report data in just 10mb on the device. This is 200x more data than any other solution.
New data automatically pushed to managers' devices – real time.
Reports can be tailored to meet managers' specific information needs.
Managers can chart and display metrics graphically, helping to simplify and clarify large amounts of complex data for faster, better decisions.

TCS' Business Impact:
Instant Access to information allows your managers to always have the latest data available to make the best call on critical decisions.
Improve revenue and profitability by having the ability to take action on excess inventory and capacity.
Helps managers spend more time in the field, with their teams and customers, and less time at their desks analyzing metrics.