From the beginning, TCS was built to fully support any backend application. The TCS Mobile Application Platform and all of the TCS tools are designed specifically to offer customers the flexibility to handle fully custom applications just as easily as packaged solutions, while still delivering the low cost and high ROI synonymous with TCS. In fact, today, about a third of our customers use TCS for at least one custom application, ranging from Sales/CRM to workflow automation.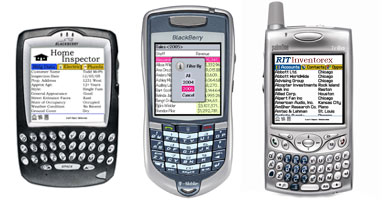 By partnering with TCS to mobilize your custom application(s), your company will receive all of the same industry leading security, design, management and usability benefits found in TCS' pre-packaged solutions. You will also get the TCS Mobile Application Platform and tool kits that will allow you to quickly and inexpensively mobilize new user groups and applications, making TCS a future-proof decision.
TCS Unique Features:
Applications – and all the data – reside locally on the device, 100% "Off-Line" Functionality – regardless of wireless coverage.
Tremendous Data Storage. Patent-pending compression technology enables users to securely store 100mb of application data in just 10mb on 32mb DEVICE. This is 200x more data than any other solution!
Rapid navigation and sub-second response time.
Screens can be quickly tailored to meet user and business requirements.
Full integration with email and phone
Rapid, Low Cost Implementation. Standard tools and pre-built interfaces help speed deployment time and controls cost.
TCS' Business Impact:
Instant Access to Information encourages adoption and makes employees more productive
Improved operational speed and communications
Guaranteed performance and availability: Your data and applications are available whenever your employees need them, not just when the network can deliver.